---

Services for Frankie Shelton AAF AIFD PFCI will be held on Saturday, July 22, 2023.
Visitation and a Reception will be held from noon until two o'clock in the afternoon.
The Service will be held in the Grand Chapel at two o'clock.
Burial to follow at three o'clock.
Forest Park Lawndale Funeral Home
6900 Lawndale Street
Houston,Texas
---
 
Remembering Frankie with Heartfelt Love and Deep Respect
Click to play the video below:
About Frankie Shelton AAF AIFD PCFI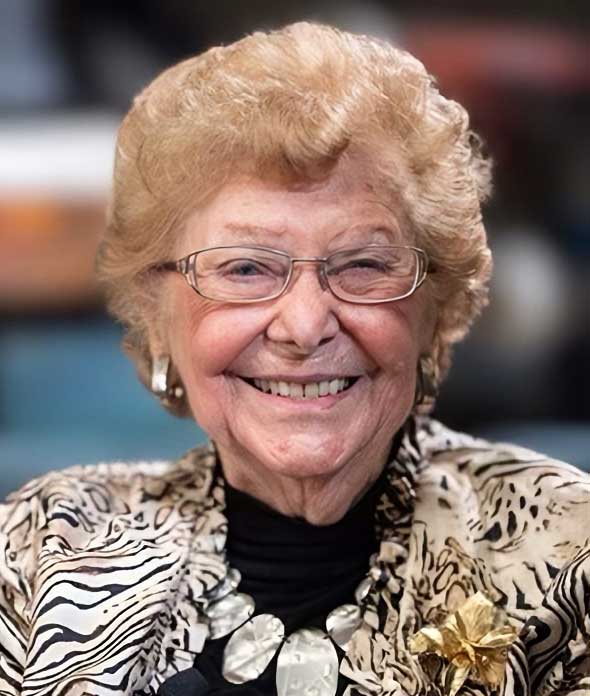 Frankie was perennially excited about flowers, about florists, and about the floral industry. There have been and will be countless stories about one recognized, as only few ever will be, by only one name…simply Frankie.
Frankie Shelton AAF AIFD PFCI was a nationally recognized teacher of floral design. Her early years reflected ownership and operations of a retail flower shop in Houston, Texas which she sold in 1977. After that time, teaching, presenting and consulting established the hallmark of her long standing career. Highly motivating, she traveled the world, sharing her vast knowledge and experience in a warm and enthusiastic manner.
Her involvement on the national stage was extensive, taking her to Washington, D.C. for numerous engagements. She decorated the White House for Christmas on four occasions, the Vice President's home in 1985 and chaired one of the Presidential Inaugural Design Teams in 1989.
She served the American Institute of Floral Designers (AIFD) as Chairperson of the 1979 AIFD Symposium, which was the first AIFD Symposium to be outside of the state of California where AIFD was founded and again in 1985. She served as President of AIFD in 1982 and was named a Fellow of the Institute, receiving the Award of Distinguished Service to AIFD, in 1989. AIFD previously recognized her industry contributions with the Award of Distinguished Service to the Industry in 1985.
Prominent among other honors received during her career, were the designation of American Academy of Floriculture (AAF), the Tommy Bright Award for Outstanding Floral Commentary presented during the 1989 Society of American Florists Convention from Professional Floral Commentators International (PFCI) Board of Trustees and the opportunity to collaborate with a selected group to author the first edition of the AIFD Book of Floral Terminology.
The AIFD Foundation Board of Trustees named Frankie Shelton AIFD Trustee Emeritus in recognition for years of service to the AIFD Foundation as a Trustee and as Board Secretary. Friends established and the AIFD South Central Regional Chapter and Allied Florists of Houston completed the endowment of the Frankie Shelton AIFD Endowed Fund in 2022 within the AIFD Foundation so that education may be provided in perpetuity through scholarships and mentorships according to the purposes of the Frankie Shelton AIFD Endowed Fund.
"Any donations that come in, under my name, will be used to give lessons, to give seminars and to give education. That was my dream all through the years." —Frankie Shelton AIFD